LAUNCHES NEW DINING MENU UNDER THE MOTTO
"A Tico Beach Experience"
With the arrival of the new summer season in Costa Rica, Manzú Restaurant located at Nantipa Hotel in Santa Teresa, Costa Rica, is ready to receive local and foreign clientele with a revamped menu to entice taste buds all while enjoying a laid-back ambiance by the sea. "We like to highlight Nantipa's motto ~ A Tico Beach Experience ~ with our new dishes taking our guests on a culinary journey experiencing Costa Rica's flavors and recipes incorporating international influences from France, China & Argentina." – comments Pedro Caja head chef of Manzú.
The new menu, coming fully into effect January 2023, embraces the cooking style and trajectory of Pedro Caja who took on the position as head chef in Manzú in 2020. All influences from previous chefs will be replaced with creations by Pedro and his passionate team of sous chefs incorporating new tendencies, feedback from the local community and Costa Rica's culinary traditions. One new dish of nostalgia for Pedro Caja is the "Fried rice with palm heart" – a recipe inspired by his mother's cooking.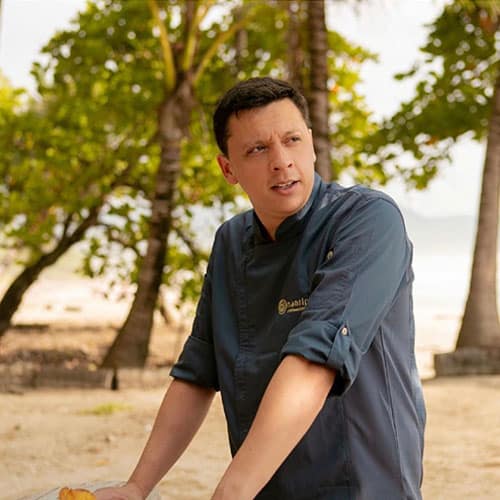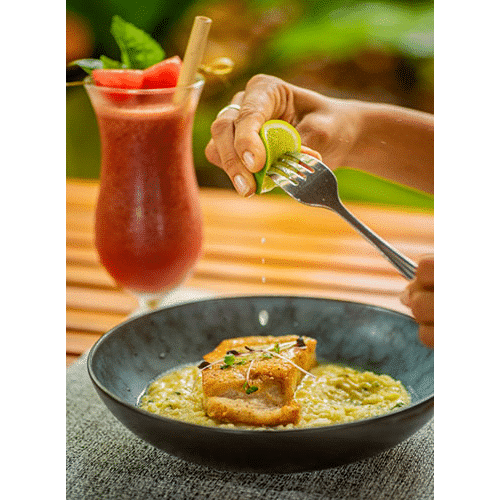 Manzú sets itself apart from other local and national offers through the grand variety of Costa Rican dishes offered throughout the menus serving up breakfast, lunch and dinner; but also, through the incredible love for detail and patience Pedro's team places in every plate that leaves the Manzú kitchen. "We do not use any artificial ingredients. The preparation of one single dish can take up hours of time from the selection of the organic vegetables or fruits and meats, the slow-cooking of broth to bring out natural flavors or the usage of our modern oven to get this special smoky flavor for our cold-smoked tomahawk with coffee chips." – shares Pedro.
The brand-new menu is presented in a carefully selected artisanal dishware to accompany the flavors with a visually stimulating presentation. Customers in some selections are encouraged to interact with their food, either assembling their dish or adding ingredients or seasoning. Dining at Manzú is ought to be a full-spectrum sensory experience.
The innovations go along with the sustainability efforts that Manzú and Pedro promote: "As proud Costa Ricans conservation is at the core of our creating. During the past month we have taken big leaps to adjust our processes as we proudly strive to receive the sustainability certification established by the National Tourism Board (ICT). All our organic produce and fish is sourced from local businesses, not just to support our local community, but also to lower emissions. All our waste water and organic waste is properly managed on the property and we even invite our guests to join us for an ocean debris beach clean-up during their visit with our cleanup station in front of Manzú in exchange for a fresh fruit juice to recharge after the good work has been done."- states Pedro.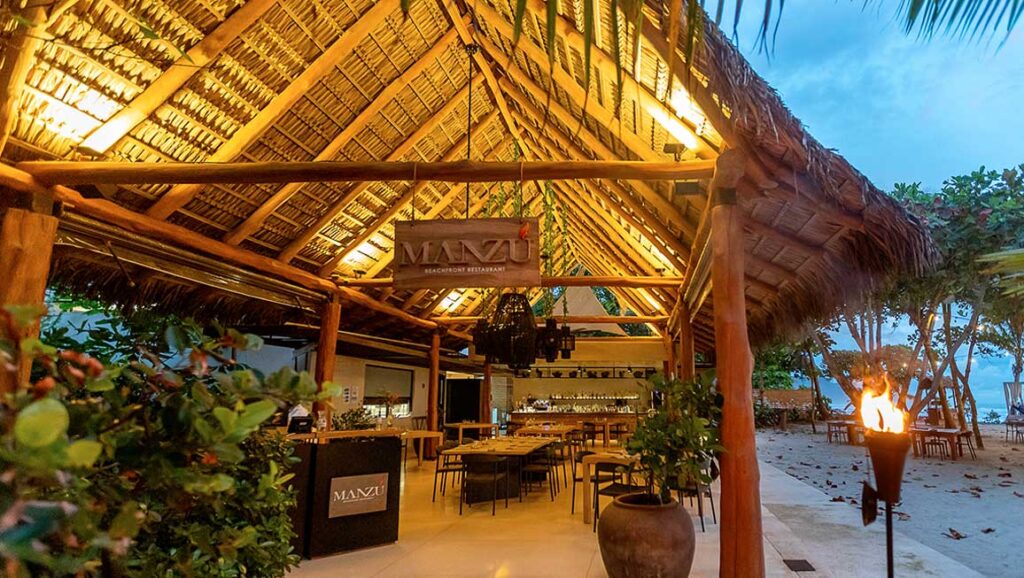 From the "Pura Vida Tasting Menu" to innovative techniques, special crafted tableware and the outstanding passion and service that Pedro and his team place into creating an unforgettable culinary experience – Manzú in Santa Teresa, Costa Rica awaits its guest's beachfront with the Pacific Ocean waves as backdrop. For reservations: +506 2101-0222 or +506 8782 7572.